Other than Paul Bissonnette has been named to the 2007/2008 ECHL Allstar game for the second straight season, not too much news today.
Whoever runs the Nailer website must not know who Paul Bissonnette is because this is the picture that they had online to go with the story.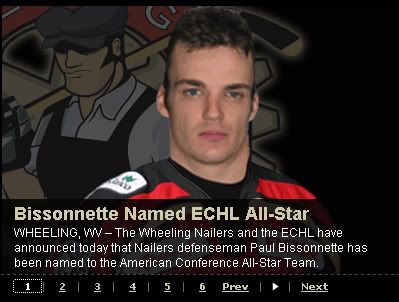 Justin Chwedoruk... nice. Maybe they are really in love with their photoshop, or maybe they put Chwedoruk's head on Bissonnette's body? I don't know, but if that's the case, I say we take both players and create Paulstin Chwedonnette. That'd be one intense mofo.
Speaking of intense players... The daily Gino Pisellini fight is:
Gino Pisellini vs. Scott Todd - Round 1
The Nailers are back in town tomorrow night to face the Elmira Jackles, who last time came to town to relax and go home with an easy win. The most action in that game was the fans giving them the business as they sat in the entrance way between periods. I guess they wanted to lengthen their stay this time and stay for two games.